We have another review copy available – this time an alternate history novel by Sebastian P. Breit called Wolf Hunt. If you would like to review this title for Alt Hist then simply email me at althist.editor@gmail.com with some information about your past reviewing work and if you pass muster I'll email you a copy of the PDF review copy of the book.
Here's some more information about the book and about Sebastian.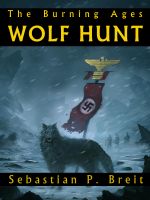 About "Wolf Hunt":
"2024. The world we know is crumbling. A devastating war in the Persian Gulf has left the global economy in ruins, and civilization itself is beginning to crack under the strain.
When a war-weary task force of NATO ships races against time and a rival fleet to prevent Brazil's descent into a murderous civil war, their mission is unexpectedly upset by a mysterious tempest. Thrown back in time, Captains Steven Flynn and Florian Hallwinter with their crews emerge in the year 1940 as the world is gripped in the fires of World War Two.
Presented with the opportunity to change both past and future for the better, they find themselves drawn into a maelstrom of conflicting interests. While overcoming the suspicion of their natural allies of the time proves harder than they imagined, they soon discover that even the best intentions carry the seeds of doom. For whereas Flynn is American, Hallwinter and his crew are from Germany…"
Wolf Hunt is as much about the journey of these two similar yet different groups of men to change history itself as it is about the clashes—and the clash of cultures which ensues—along the way. For the Americans, it's about witnessing a place that calls itself America—the America of the 'Greatest Generation' even—but which culturally and socially is rather alien to the place they know. For the Germans, it's as much a story about clashing head-on with their nightmares as it is a quest for national redemption.
Available as ebook & paperback:
Paperback: http://www.amazon.com/Wolf-Hunt-Burning-Ages-1/dp/1463570104/ref=sr_1_1?s=books&ie=UTF8&qid=1309960929&sr=1-1
Amazon US: http://www.amazon.com/Wolf-Hunt-Burning-Ages-ebook/dp/B0056QJGN0/ref=sr_1_4?s=digital-text&ie=UTF8&qid=1308844347&sr=1-4
Amazon UK: https://www.amazon.co.uk/dp/B0056QJGN0
Smashwords: http://www.smashwords.com/books/view/64670
About the author:
Sebastian P. Breit has worked in the financial sector and has studied English and Political Sciences at the University of Trier, Germany. He currently lives in Germany's oldest city, Trier where the Roman past lurks behind each and every corner. You can follow his writing progress & projects as well as his ramblings on a wide range of topics on his web page: "The Burning Ages"
www.spbreit.com